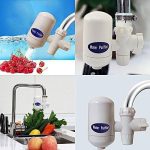 Hi-tech ceramic cartridge water purifier
Sale!
Hi-tech ceramic cartridge water purifier
-15%
filter and purify your water, provide your family the best and healthy water. This faucet water filter can generate great purified water instantly.
Switches between filtrated water and tap water flexibly using Nano-KDF technology to inhibit the growth of bacteria.
The ceramic filtering cartridge can be cleaned easily and used over again.
It also comes with 3 faucet joints in order to fit different types of taps. Very easy to install. No special tool is required.
This water faucet uses Tourmaline to filter water, tourmaline is a natural gemstone. It is a crystal silicate mineral compounded with elements such as aluminum, iron, magnesium, sodium, lithium, or potassium.