Why use five pans when you can cook the meals in one? The amazing multi-section 5 in 1 magic pan/frying pan/family pan/non-stick/extra-large pan enables you to cook five foods on a single hob, making it perfect for a belly-busting full English breakfast. What's more, you can use it on any cooking surface – including induction hobs. Designed for maximum performance. This Pan distributes heat evenly to the sides for efficient cooking. It also has a double-layer coating, which is rated as one of the best cooking surfaces on the market. The surface is non-toxic and non-stick, making it safe to cook on and extremely easy to clean.Prepare a meal using one pan and a single hob.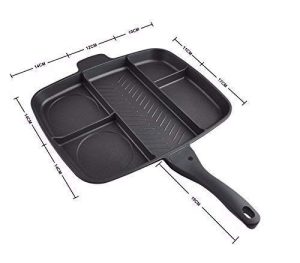 Multi-sectional design to cook five foods at once. Suitable for all surfaces including induction hobs Non-stick / non-toxic coating (PTFE / no PFOAs) Cook faster, clean less, and enjoy great meals. Cook an entire meal in a single pan. Cuts down on washing up. Suitable for all surfaces including induction hobs. 5 separate sections to cook a variety of foods. Cook meat or fish in the middle and other food in the sides. Evenly distributes heat for perfect cooking. Die-cast aluminium design. Non-toxic and non-stick coating. Size: 32cm x 38cm.The Evana master of all cooking pans. Create endless food combinations Prepare fiery fajitas, big burger meals, or a healthy salmon, haloumi, and vegetable medley. With the Magic Pan, you can create a different dish every day. Not only can you cook amazing meals but you'll only need to wash up one pan when you've finished. It's a gift from the culinary gods.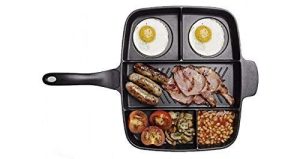 Magic Pan Pro Tip: Brown the top of an omelette or the other parts of a meal by putting the Pan under a grill. Its ergonomic Bakelite handle is oven safe to temperatures of 180°C. Amazing multi-section design Cook 5 different foods at once Suitable for all cooking surfaces Can be used on induction hobs 15-20% hotter in centre for fish and meat.