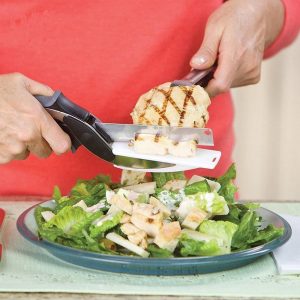 Clever cutter/2-in-1 knife and Cutting Board that Chops and Slices Food in Seconds. The combination of razor sharp stainless steel blades and cutting board makes cutting, slicing and dicing easy and fast. Great for Cutting/Slicing/Chopping – Veggies, Fruits, Meat, Cheese, and Much More. Easy to clean and use! Replace all your kitchen knives and cutlery with this one easy to use device.
Specifications
main material-stainless steel
weight-0.3kg
KEY FEATURES
2-in-1 Knife and Cutting Board that slices food in seconds offering a Unique cutting solution for veggies, fruits and meat featuring a revolutionary design and armed with super sharp stainless steel blades
Razor sharp stainless steel blade for quick and effortless slicing. Stainless steel is used to make the great blades. Does not rust.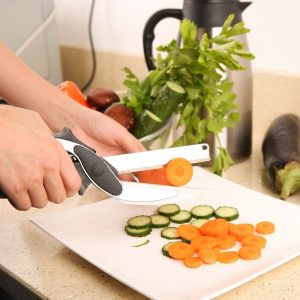 Its ergonomic handles provide a stable grip and is easy on the hands for long cutting or chopping sessions.
Great for cutting, slicing, and chopping veggies, fruit, meat, cheese, and much more! is made easier with this great combination of food chopper and cutting board
Locking feature for safe storage helps prevent accidental cuts Furthermore, because of its compact size and shape, you can easily mount it to any knife block or store it in your kitchen drawer for easy accessibility.
Easy to Clean and Maintain Being dishwasher safe and featuring a simple design, the Clever Cutter 2-in-1 kitchen knife and chopping board is fairly easy wash and maintain
WHAT'S IN THE BOX
Perfect gift for our cooking loved ones. Useful in both commercial and domestic settings.Comfortable for long periods of cutting and chopping. stainless steel. Safe to use.