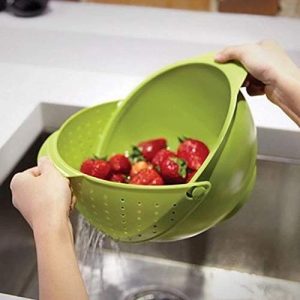 Rice/fruits washer and rinser bowl. anti-spill. is made of easy-to-clean, BPA-free plastic. solves all your rice and fruit cleaning problems.
Food bowl with integrated strainer. strainer slides down when not in use, leaving the bowl shape.
Prevents Food from getting wasted while straining water from the bowl. Perfect Size. can be used for storage in Kitchen as well as for washing fruits . vegetables , pulses etc.
Dimension: 11.5* 9.5 * 4.5 Inch. Random color sent as per availability.
GOOD QUALITY plastic for uses with Rice , Dal , Pulses ,Grains ,Pasta, Noodles, Fruits,Vegetables Washing & Straining.
An innovation in cooking and preparation gadgets. Rinse is a 2-in-1 bowl and strainer that is perfect for washing fruits, vegetables and salad. A smooth, locking strainer easily folds out to catch your food items in one easy tilt. We don't like it, we love it! This bowl has a strainer "side" that folds out to catch your pasta/fruit/veggies, so you can rinse and then strain out the water all in one bowl. An easy way to wash your vegetables and also a nice salad bowl to put on the table.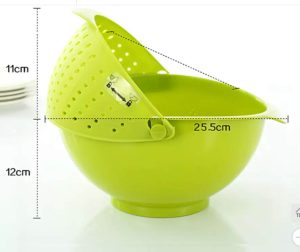 Perfect gift . essential for organized and tidy kitchen. Order your rice/fruits washer/rinser bowl today in Kenya at malaki households online and get it delivered at your doorstep.