Malaki households brings you the metallic 36-pair metallic portable shoe rack to solve your storage space issues when it comes to matters shoes. At an affordable price, you get yourself a highly durable, (metallic), dust-proof shoe rack. The canvas material does not get humid. This ensures that your room remains fresh even in cold times. has a door that closes to keep off dust, keeping your shoes clean and shinny.The 36-pair metallic shoe rack does not disappoint in portability. Easy to assemble and disassemble. You can fix it yourself in just a few minutes. its relatively light (3 kg) thus easy to carry.
In the box are the parts that you assemble as well as an easy to understand manual explaining how to. The shoe rack holds up to 36 pairs of shoes. Each section can hold 2 to 3 adult shoes. Use these framed  portable shoe racks to add extra shoes storage space to your guest room or any room that might need it.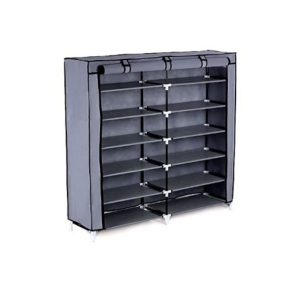 Specifications
KEY FEATURES
It can also assemble and move easily, you don't need special tools or special skills.
A shoe rack will give the perfect solution to the disorder in the room were full of shoes.
It is suitable for locker room, bedroom or the hallway. Each layer for 2-3 pairs adults shoes.
Door with zipper and Velcro to protect your shoes away from dust
WHAT'S IN THE BOX
Long steel pipe:20 pcs
Medium length steel pipe:20 pcs
Short steel pipe:36 pcs
Plastic connectors:40 pcs
Compartment cloth:9 pcs
Cloth cover: 1 pcs
Installation instruction: 1 pcs
SPECIFICATIONS
Care Label:  Make sure all poles reach the bottoms of plastic connector holes. Be careful during assembly and dis-assembly.
Main Material: Metal and canvas cover
Model: shoe rack
Production Country: China
Size (L x W x H cm): 47.2 in x 11.8 in x 43.3 in
Weight (kg): 3